<!—- title description boxes -->
<!—- product name -->
Zero Discharge System
<!—- subhead -->
Ion Exchange System
<!—- product description -->
Supplied pre-assembled as a complete, skid-mounted unit, the Ion Exchange System utilizes the following components:
Transfer Tank, 40 gallon capacity, to collect rinse waters from the process line
Centrifugal pump, 316 stainless steel, 1 hp; 120 VAC.
Particle Filter, 316 stainless steel, with a 5 micron filter element
Primary set of deionizing tanks, each 3.6 cu. Ft. capacity: (each set consists of one carbon tank, one cation resin tank, one anion resin tank)
Secondary set of deionizing tanks, identical to the primary set above. Conductivity light to indicate resin saturation. Quick Disconnect hose connections.
<!—- linked assets -->
<!—- product image -->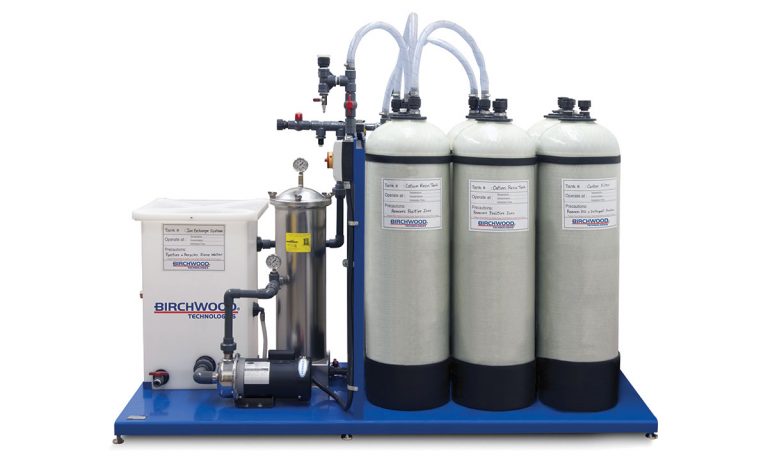 <!—- pricing boxes -->
<!—- single product --> <!—- single product request quote -->
<!—- 1 quart sale --> <!—- 1 quart --> <!—- 1 gallon sale --> <!—- 1 gallon --> <!—- 5 gallon sale --> <!—- 5 gallon --> <!—- 15 gallon --> <!—- 55 gallon --> <!—- 40 lb sale --> <!—- 40 lb --> <!—- 400 lb -->